About Kramer & Duyvis B.V.
Kramer & Duyvis B.V. has been a leading design, production and sales organization for more than 60 years, operating with specialist knowledge in the world of round conveyors.
Kramer & Duyvis B.V., which is located in Waalwijk, is a well established and highly successful producer of curved conveyors with an enviable list of customers. Our well earned reputation for quality and reliability is maintained by our team of specialists in engineering and production, delivering curved conveyors globally through a reliable network of system integrators and OEM-ers.

At Kramer & Duyvis B.V. every order is treated with care and personal attention, we will work with you to precisely understand the environment in which the curved conveyors will be used and take the utmost care to ensure your requirements are interpreted correctly. The curved conveyors will then be assembled based on the agreed configuration.

With well-equipped workshops full of the latest machinery and motivated, well-trained staff we are able to offer our customers top-quality curved conveyors that are reliable and technically innovative.

For Kramer & Duyvis B.V. every order is unique!

Because of our expertise, flexibility and entering into long-term partnerships, Kramer & Duyvis is the reliable partner with a focus on the production and delivery of good quality curved conveyors.
References and market segments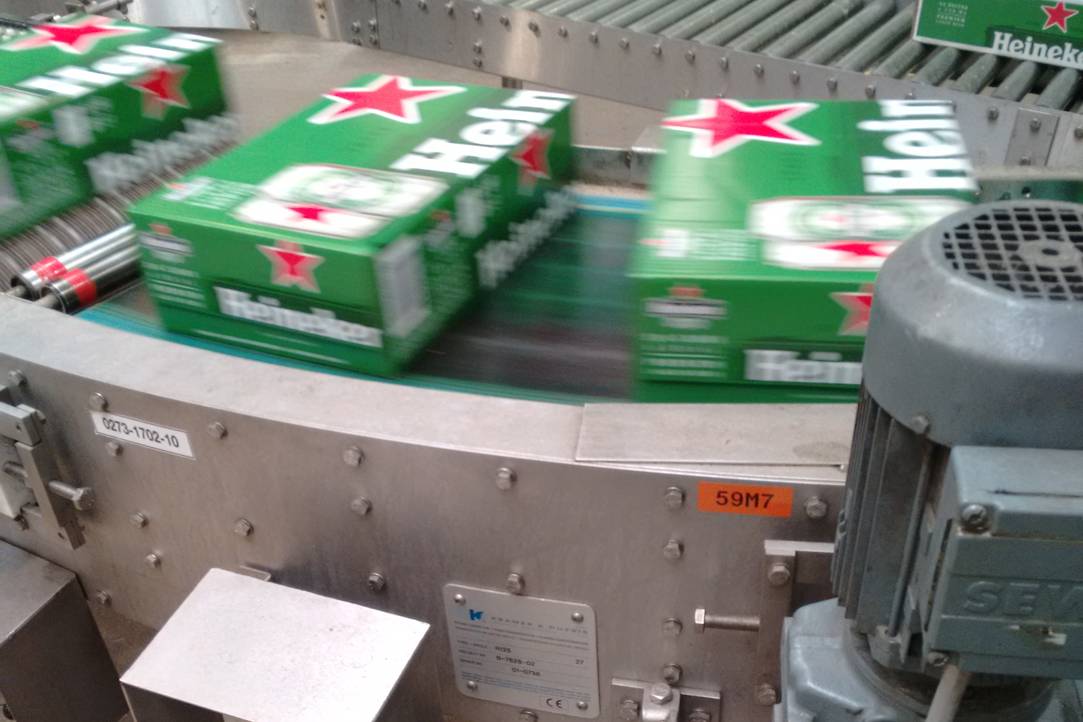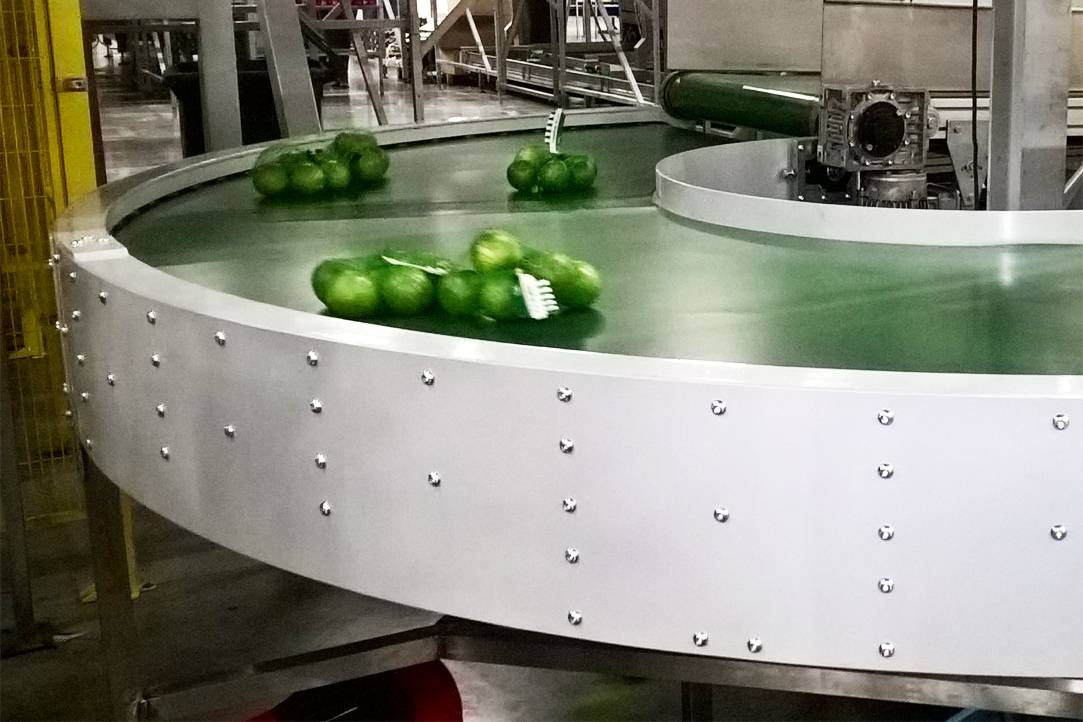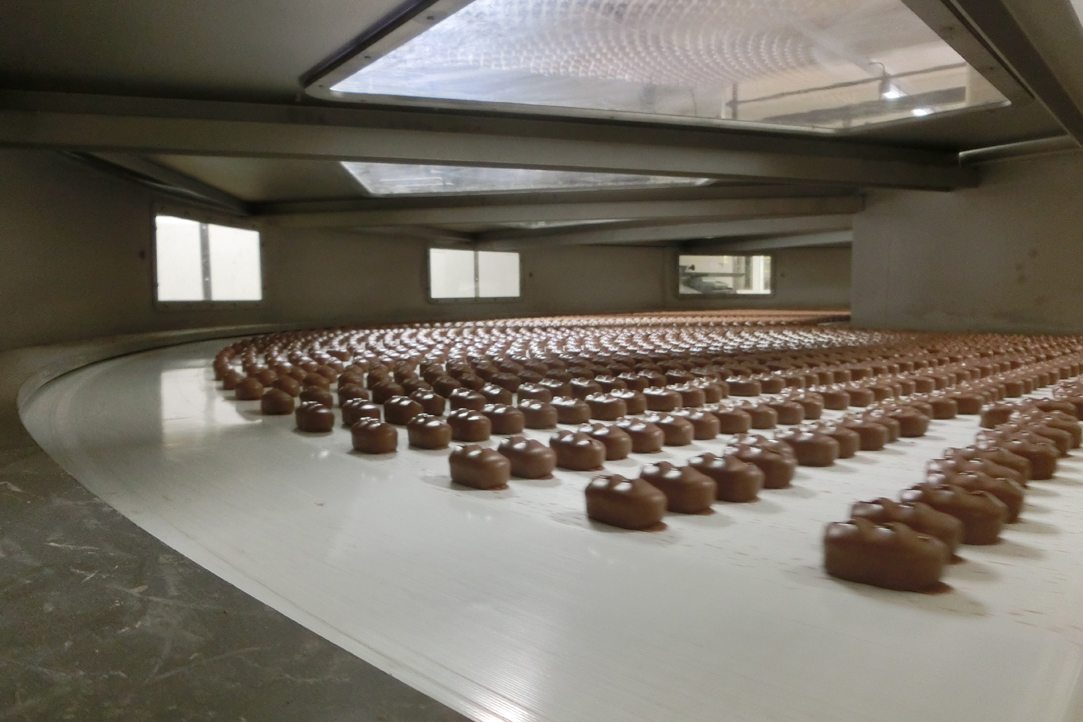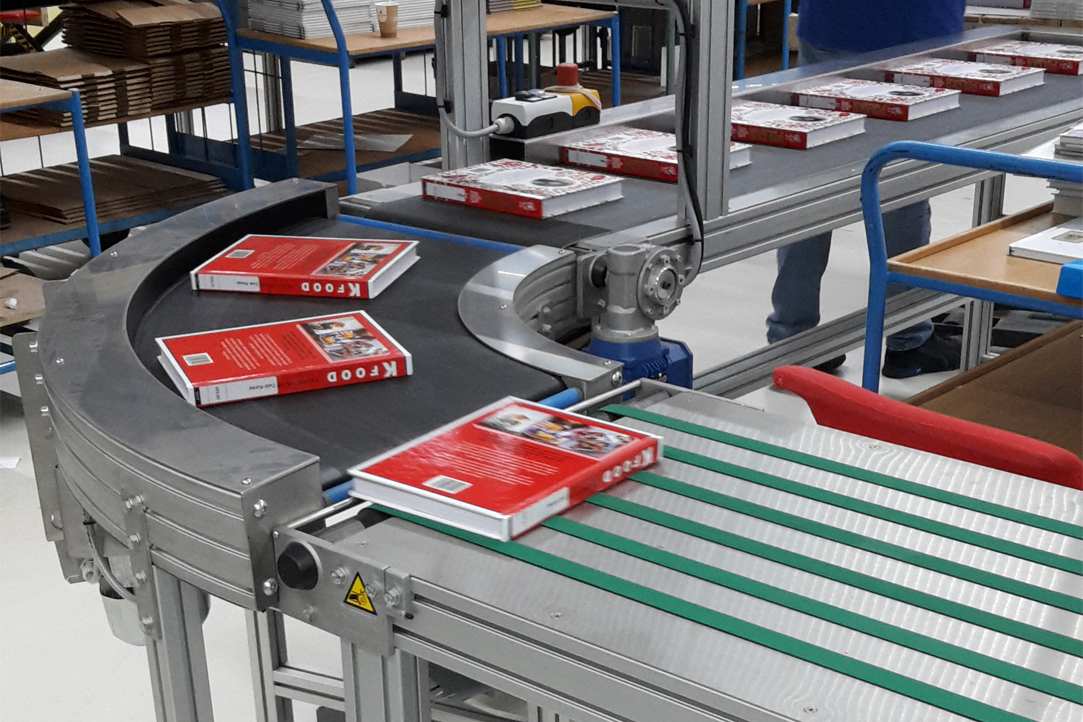 The Kramer & Duyvis round transporters are supplied inland and abroad through an extensive network of system integrators and OEMs. The Kramer & Duyvis round conveyors have been placed by these system integrators and OEMs at the following companies, among others::
The Kramer & Duyvis round conveyors are used extensively in a whole host of industries.
When the product is vulnerable, the capacities are high, the product orientation is important, the dimensions are very small or large, or in the case of layout technical problems, round conveyors are often used.
Kramer & Duyvis round conveyors are used for a variety of applications, including but not limited to:
automotive industry
bakery industry
brick industry
chemical industry
chocolate industry
cosmetic industry
pharmaceutical industry
furniture industry
glass wool industry
cheese industry
plastic industry
logistic systems
airport industry
poultry industry
tobacco industry
packaging industry
food industry
horticulture
History
It was 1945. The country had been liberated, but the economy was in ruins and needed to be rebuilt. There was plenty of work, but a terrible shortage of factories and materials. The Germans had removed a lot of this and taken it to Germany.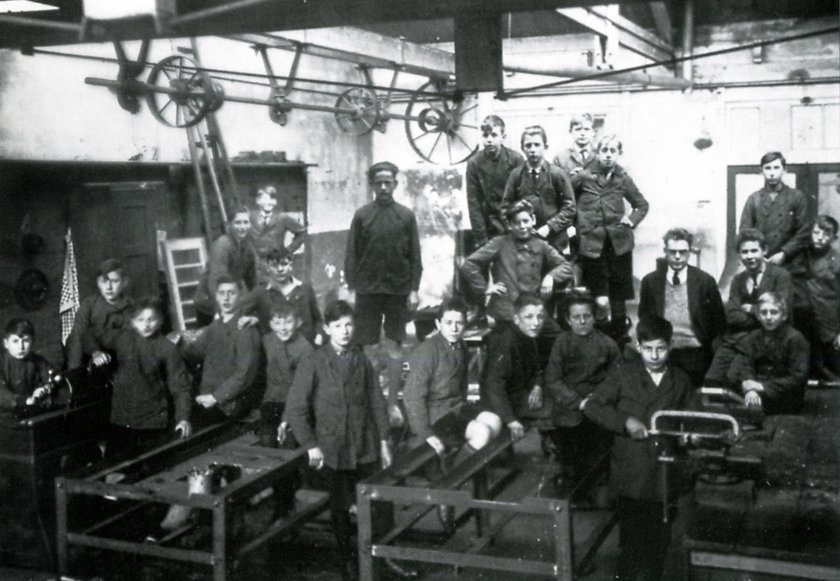 The technical school in 1932, which had just moved from the Herengracht to the Westzijde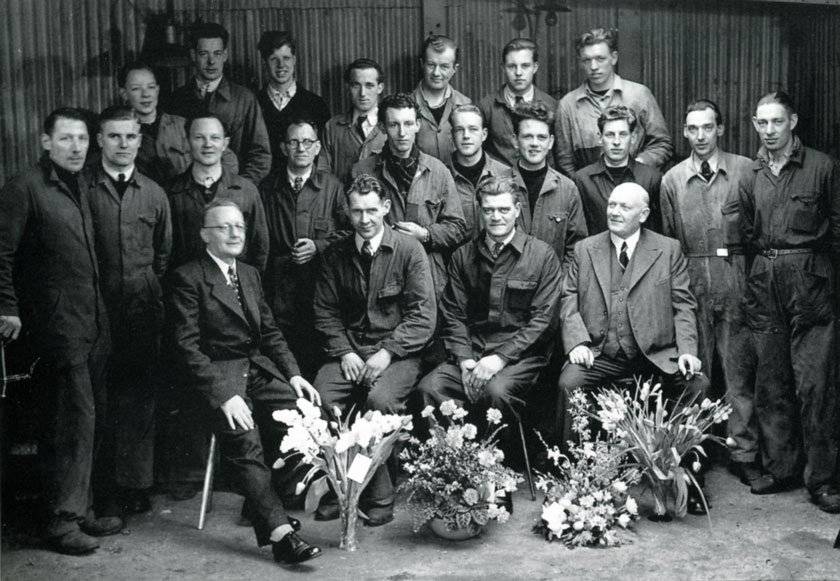 Group photo on the fifth anniversary on 18 March 1951 with Jan Duyvis and Piet Kramer
Piet Kramer and Jan Duyvis were colleagues at the Buhrs machine factory. In the evenings, they started up a supply business using a machine in the cellar of the flat rented by Kramer. Their core activity was producing hat presses and making improvements to boilers, presses and other machines. They had been able to buy many of the machines they needed cheaply from the discarded munitions site on the Hem Bridge. On 18 March 1946 Kramer and Duyvis took the plunge and started up their own company. They hired the coal shed of the ice factory on Oud Saenden for 10 guilders a week.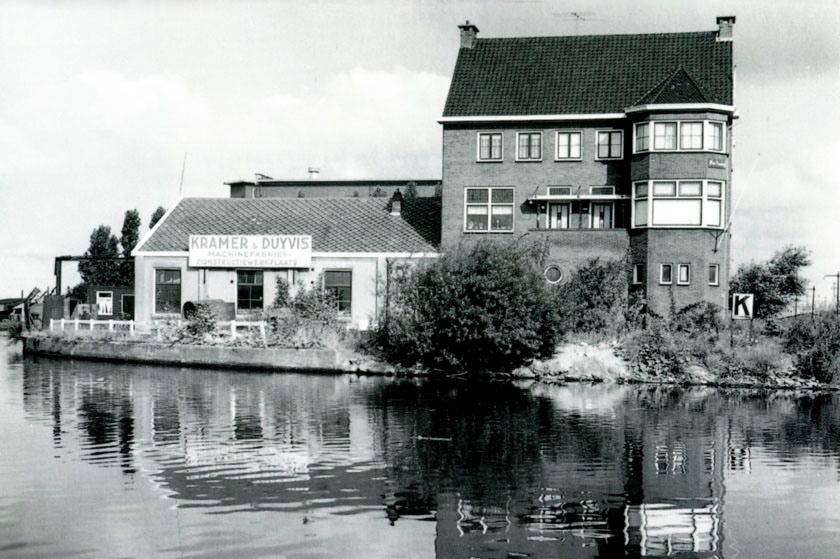 Oud Saenden ice factory (with name board) and coal shed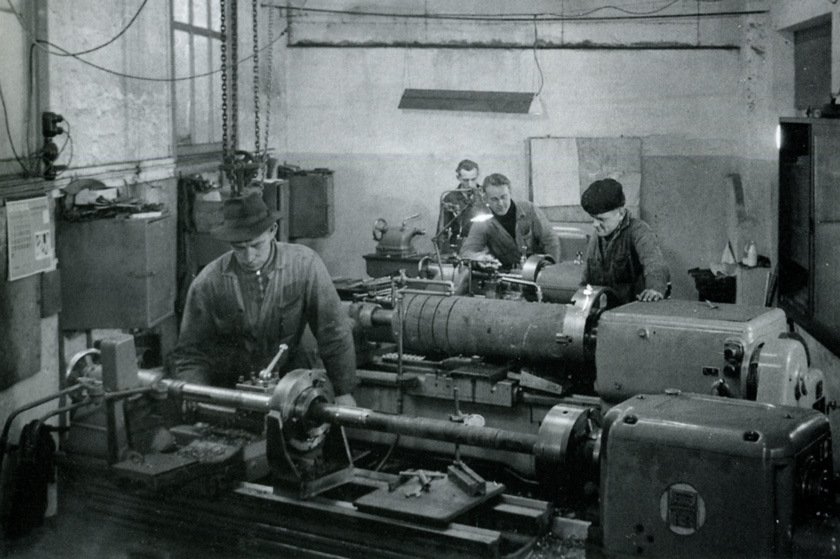 Nice lathe from Joop Geenen in the ice factory
The established owners of machine factories took up arms against this new competitor and demanded that they be closed down. With a lot of bluff and persistence, the two were able to obtain an exemption and ultimately get a licence. But first, Kramer had to appear before the Ministry of Social Affairs and go to court.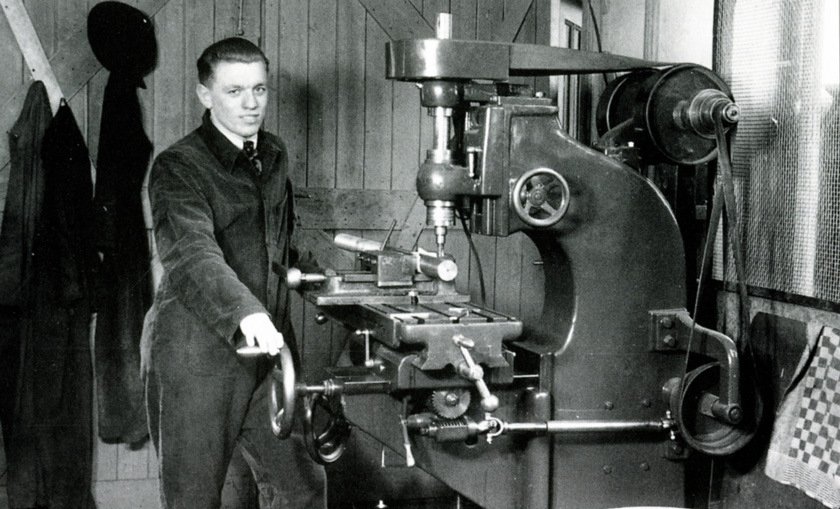 Jan Deurholt standing at a milling machine machining a shaft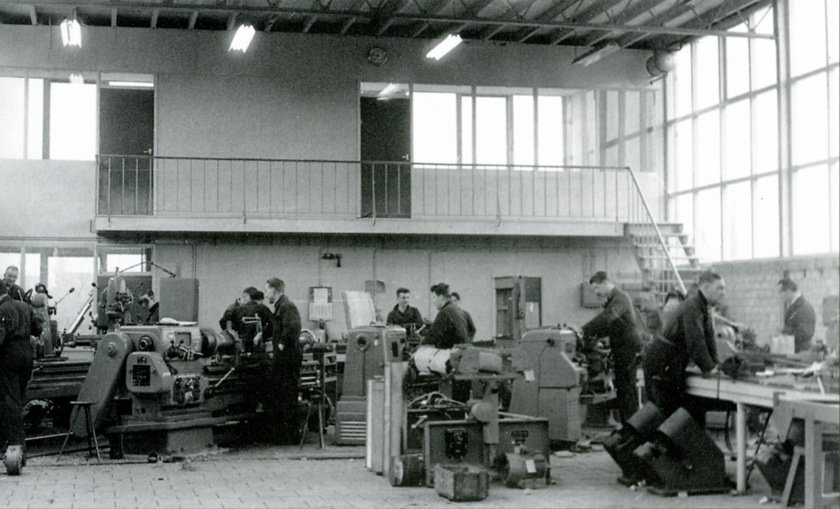 At work in the new factory
Not long after its opening the company employed its first apprentices – also ex-colleagues. This meant that there had to be a constant flow of work. This was obtained by winning Bruynzeel as a customer. With a vast amount of repair and construction work for this well-paying company – quotations weren't necessary – K & D grew to a staff of 9 people in 1948 and 19 in 1951. In the following 5 years, the workforce doubled to 30 men. K & D had become a major player. The range of its activities was also growing all the time and included sugar silos, suction installations, sewing machines (!), storage tanks, drying kilns, canning machines and cams. Even more large Zaans customers appeared, such as Cocoa de Zaan, Verkade, Albert Heijn and LUM (now Forbo).

In 1960 K&D had outgrown their premises once again and moved into a property of over 1500 m2 on Mauritsstraat. Over the years, in addition to other specialisms such as bends, Kramer & Duyvis have focussed increasingly upon transport systems. Year after year the various products and procedures have been expanded and improved. A high point (literally!) are the spiral conveyors that are up to 8 metres tall and have to be assembled on site.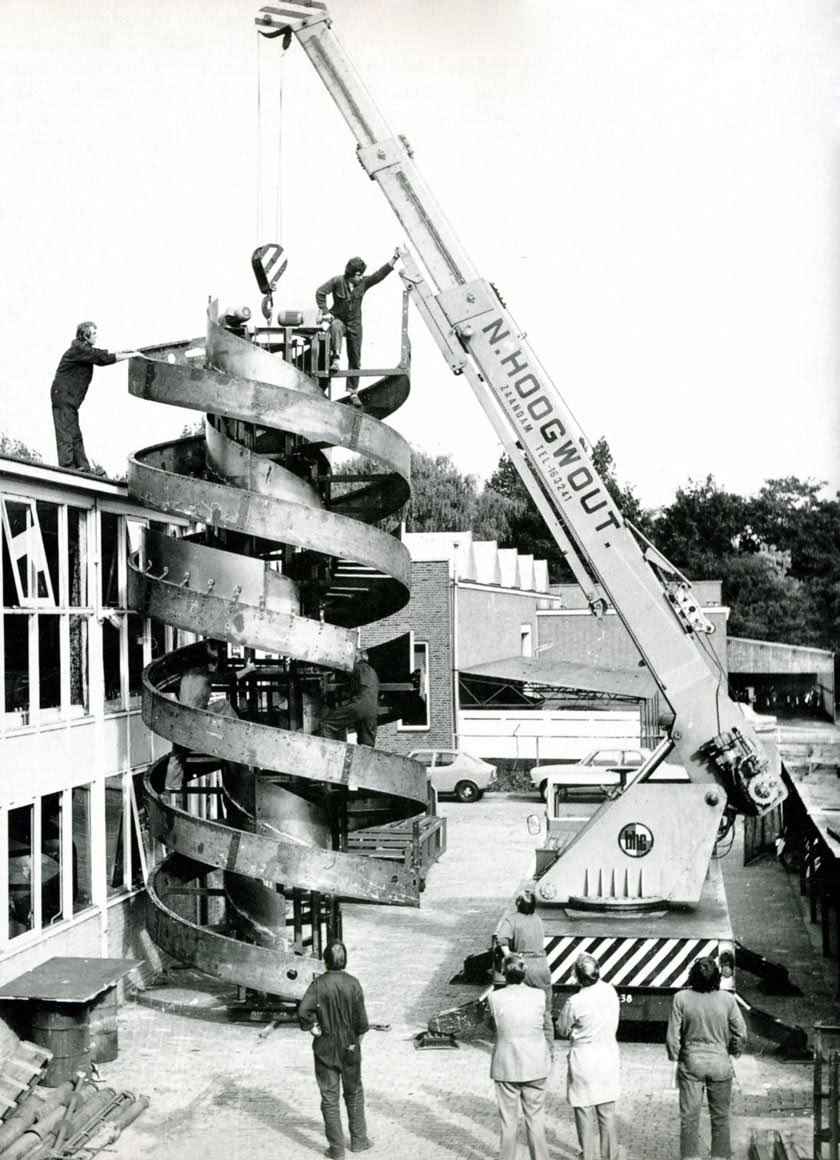 A spiral conveyor is assembled using a crane truck.
At the start of the 1980s, at least 350 circular conveyors were being developed for clients per year. A number that was to grow. Kramer & Duyvis has been located in Waalwijk since 2015 and is today one of the largest specialized manufacturers of curved conveyors in the Netherlands.