Curved conveyors Type R
The experience of the market leader in conical roller round conveyors!

Round conveyors are essential and are often crucial in a complex system with several lines. Certainly when it comes to high belt speeds, varying speeds and or start stops, it comes down to the fact that you as a user want as little maintenance as possible on your round conveyor. The R series from Kramer & Duyvis excels in this segment! Kramer & Duyvis has been building these curved conveyors since the 1960s and this is still the most proven curve in its segment.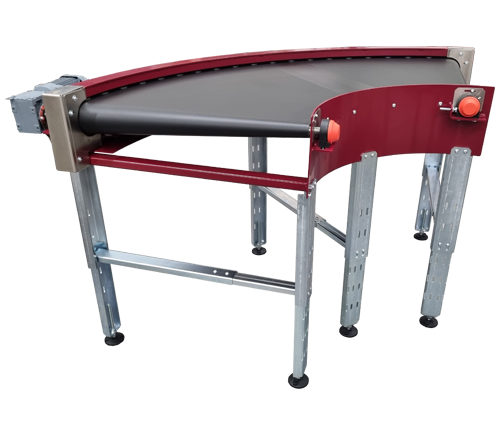 Application conditions
In order to use the curved conveyor Type R, your application must meet the following conditions in order to guarantee a long service life:
Environment: Dry to humid and clean to very polluting
Load: Max. 1500 kg (divided depending on version)
Speed: Max. 200 m/min (in the outer radius)
Roller diameter: Conical Ø50 - Ø350 mm
Kramer & Duyvis supplies these curved conveyors with a conical roller from Ø 50 mm to Ø 350 mm and the belt widths vary from 200 mm to 2800 mm. There are no restrictions on the radius of the curve, but there are of course technical limitations that we have to deal with. The angle and radius is always customer specific. It is also possible to create a difference in height in the bend, creating a Helix version (Type S).

The R-series from Kramer & Duyvis can be produced in steel (coated in your desired RAL color) or in stainless steel. The R-series is one of a kind. There are no standards, which means that you have complete freedom to implement your wishes.
Technical specifications
Basic: Steel coated or stainless steel
Transport direction: CW (clockwise) or CCW (counter clockwise)
Belt width: Standard 200 - 2.800 mm
Angle: 15° - 360°
Roller diameter: Ø50 - Ø350 mm (conical), type R50, R80, R100, R150, R250 or R350
Minimal inner radius: 300 mm
Type of drive: Direct end drive
Motor position: Inner or outer radius
Speed: max. 200 m/min (depending on version)
Gearmotor: Standard 3x230/400V, 50 Hz, IP55
Belt material: Choice of various brands, materials and colors
Belt guide: By means of ball bearing rollers mounted on the outside of the belt material (type 6, 8 of 8NR -

N

oice

R

educed)
Options:

Other brand or configuration of the gearmotor
Transfer rollers
Belt scraper (inside and/or outside)
Drive roller fitted with various types of coverings
Helix version (type S) (height difference between input and output height)
Various types of belt accessories such as flights, V-belts or a mechanical connector
Support / legs
Side guide (fixed or adjustable)
Electrical control options
You can contact us for more information or to discuss your requirements.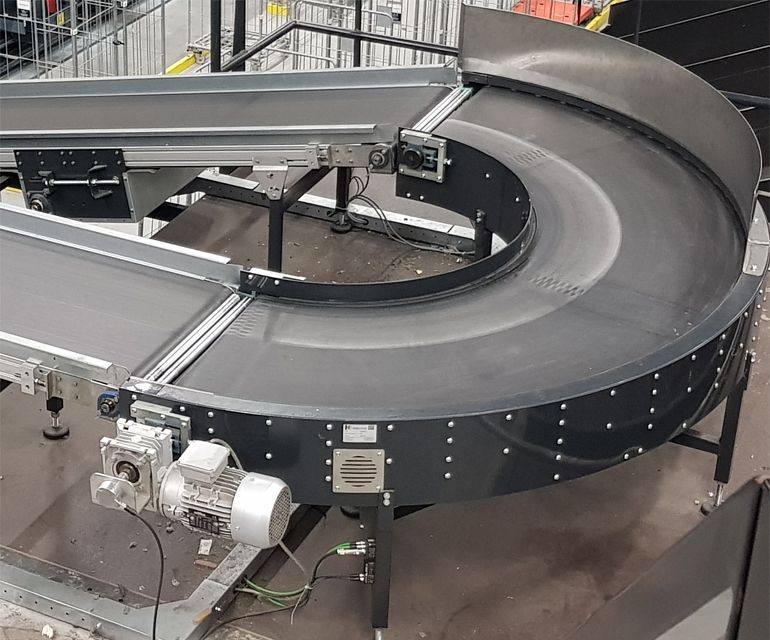 Online 3D configurator
The K&D Configurator 360 aims to quickly configure 3D models of curved conveyors and download them to use in your own 3D designs. The 3D models can be downloaded as a STEP, SAT or 3D DWG file.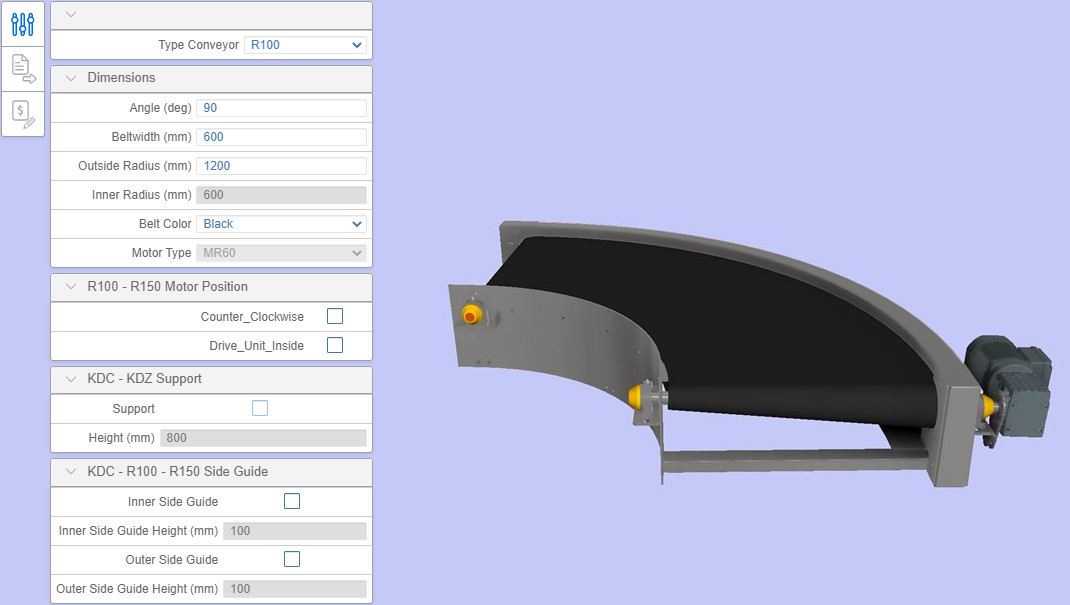 Example of the Type R in logistics: