Curved conveyors Type KDC
KDC (Kramer & Duyvis Curve) is the most economical round conveyor in its class. If it is continuous transport and it concerns a clean and dry environment, the KDC curved conveyor comes into its own.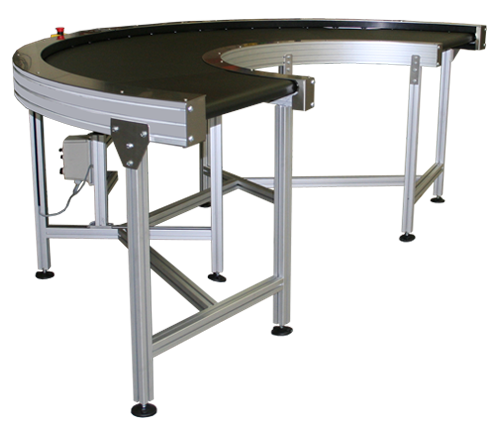 Application conditions
In order to use the curved conveyor Type KDC, your application must meet the following conditions in order to guarantee a long service life:
Environment: Dry and clean
Speed: Max. 50 m/min (in the outer radius)
Start/stops: Max. 4 start/stops per hour
The KDC has a standard aluminum profile frame, cylindrical transfers of Ø40 mm and a minimum inner radius of 300 mm. The cylindrical transfer of Ø40 mm is ideal for a good transfer to a straight belt conveyor.

Because of the specially designed ball bearing rollers for the KDC, the KDC has a very low noise level even at a speed of 50 m/min. The motor position is at all times in the middle of the conveyor. Because the KDC is driven by a friction wheel, the transport direction can very easily be switched The KDC has no limitation in turning clockwise (CW) or counterclockwise (CCW).
Technical specifications
Basic: Aluminium profile with a closed steel driving surface
Transport direction: CW (clockwise) or CCW (counter clockwise)
Belt width: Standard 200 - 1.100 mm
Angle: 25° - 180°
Roller diameter: Ø40 mm (cylindrical)
Minimal inside radius: 300 mm
Type of drive: Direct end drive with a friction wheel
Motor position: Central at the outside radius, mounted below the belt (gearmotor vertical)
Speed: Max. 50 m/min in the outer radius
Gearmotor: Standard 3x230/400V, 50 Hz, IP55
Belt material: Choice of various brands, materials and colors
Belt guide: By means of rubberized ball bearing rollers mounted on the outside of the belt material
Options:

Gearmotor mounted on the inside radius of the curve
Other brand or configuration of the gearmotor
Transfer rollers
Support / legs
Side guide (fixed or adjustable)
Electrical control options
You can contact us for more information or to discuss your requirements.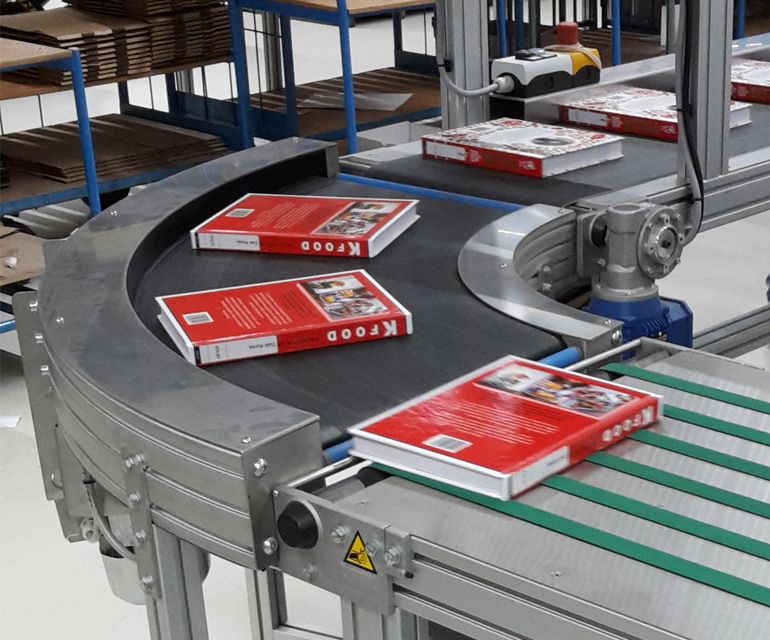 Online 3D configurator
The K&D Configurator 360 aims to quickly configure 3D models of curved conveyors and download them to use in your own 3D designs. The 3D models can be downloaded as a STEP, SAT or 3D DWG file.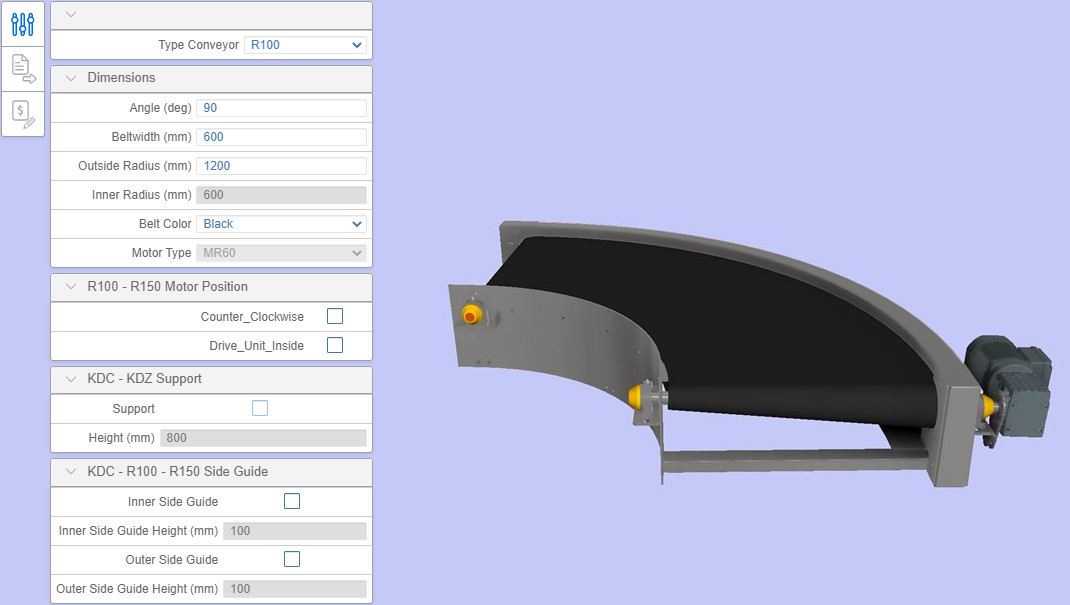 Example of the Type KDC and KDZ in logistics: