Curve conveyors Type VEHO Curve
The VEHO Curve round conveyor from Kramer & Duyvis is a circular conveyor with positive drive and closed belt of a quality that you are used to from Kramer & Duyvis.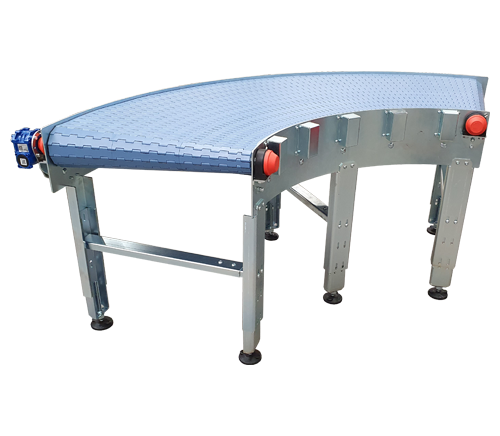 Application conditions
In order to use the curved conveyor Type VEHO Curve, your application must meet the following conditions to guarantee a long service life:
Environment: Dry to humid and clean to slightly polluting
Speed: Max. 120 m/min (in the outer radius)
Roller diameter: Conical Ø90 - Ø250 mm
The VEHO Curve has a closed plastic modular belt with a fixed inner radius that does not require a straight entry and exit section. This results in compact, strong and safe plastic modular round conveyor, without unnecessary loss of space for straight sections before and after the curve.
The plastic modular belt for the VEHO Curve round conveyor is produced in one fixed inner radius, namely 600 mm.
| | | | |
| --- | --- | --- | --- |
| Belt width (mm) | Inner radius (mm) | Outer radius (mm) | Conical roller diameter (mm) |
| 200 | 600 | 800 | Ø70-Ø90 |
| 400 | 600 | 1.000 | Ø70-Ø110 |
| 600 | 600 | 1.200 | Ø70-Ø130 |
| 800 | 600 | 1.400 | Ø70-Ø150 |
| 1.000 | 600 | 1.600 | Ø70-Ø170 |
| 1.200 | 600 | 1.800 | Ø70-Ø190 |
| 1.400 | 600 | 2.000 | Ø70-Ø210 |
| 1.600 | 600 | 2.200 | Ø70-Ø230 |

Advantages of the plastic modular round conveyor Type VEHO Curve:
Compact design with which a solution can be offered when space is limited
Modular design that results in short lead times
Closed surface that prevents internal contamination
Suitable for high speed
Inner radius is guided as standard with rubberized ball bearing rollers (Noise Reduced) which ensures less wear and noise at higher speeds
Slip-free transport
Strong modular belt, resistant to high loads, long service life (made of POM, blue)
Low maintenance and easy maintenance, simple construction (no special tools required for maintenance or repair) which ensures low downtime
Maintaining the positioning of the product on the surface of the belt
Technical specifications
Basic: Steel galvanized (standard)
Transport direction: CW (clockwise) or CCW (counter clockwise)
Belt width: Standard 200 - 1.600 mm
Angle: 15°- 180° (standards 30 - 45° -60° - 90° - 180°)
Roller diameter: Ø90 - Ø250 mm (conical)
Inner radius: 600 mm
Type of drive: Direct end drive
Motor position: Outer radius
Speed: Max. 120 m/min in the outer radius
Gearmotor: Standard 3x230/400V, 50 Hz, IP55
Belt material: Blue plastic modular belt (FDA, material POM) with plastic pins (material POM) Ø 4,9 mm, temperature range -40°C to +80°C
Options:

Steel coated frame
Stainless steel version
White plastic modular belt
Other brand or configuration of the gearmotor
Transfer rollers
Motor position inner radius
Support / legs
Side guide (fixed or adjustable)
Electrical control options
You can contact us for more information or to discuss your requirements.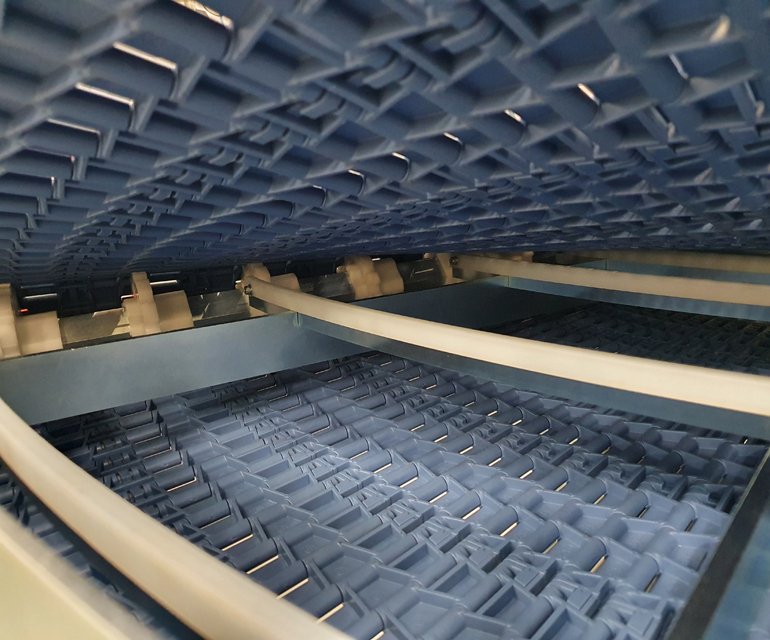 Online 3D configurator
The K&D Configurator 360 aims to quickly configure 3D models of curved conveyors and download them to use in your own 3D designs. The 3D models can be downloaded as a STEP, SAT or 3D DWG file.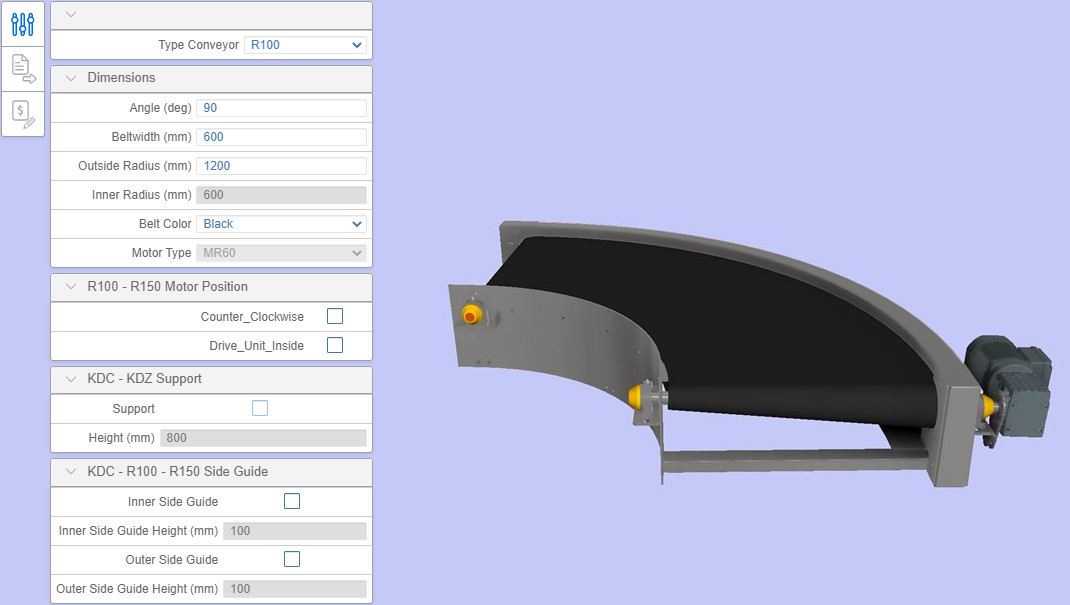 Example of the Type VEHO Curve with various products: