Curved conveyors Type BMK
The Kramer & Duyvis BMK belt bend has been specially developed for the transport of small, light products. The BMK round conveyor has a stainless steel frame and a cylindrical knife bar of Ø15 mm as standard. Depending on the weight, speed and belt width, you can choose for a rolling knife bar or a fixed knife bar.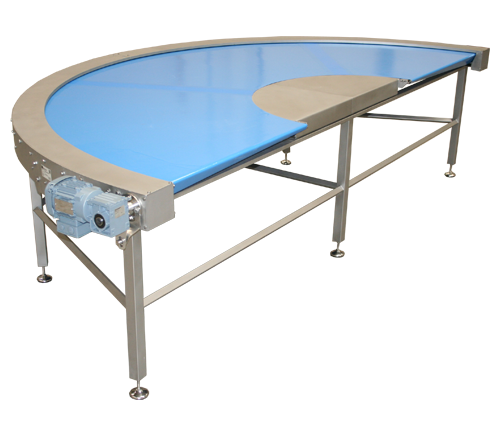 Application conditions
In order to use the curved conveyor type BMK, your application must meet the following conditions to guarantee a long service life:
Environment: Dry and clean to slightly polluting
Speed: Max. 60 m/min (in the outer radius)
Roller diameter: Cylindrical Ø15 mm
With the BMK, it is always built to customer specifications. The big advantage is that this round conveyor does not have to be a limitation in the production line. We can supply the BMK round conveyors in any desired angle from 15° to 180°. Belt width and radius is always customer specific.
Technical specifications
Basic: Stainless steel
Transport direction: CW (clockwise) or CCW (counter clockwise)
Belt width: Standard 200 - 1.500 mm
Angle: 35° - 180°
Roller diameter: Ø15 mm (cylindrical), fixed or with bearings
Minimal inner radius: 300 mm
Type of drive: Direct end drive
Motor position: Outer radius
Speed: Max. 60 m/min in the outer radius
Gearmotor: Standard 3x230/400V, 50 Hz, IP55
Belt material: Choice of various brands, materials and colors
Belt guide: By means of stainless steel springs that are hooked to a chain
Options:

Other brand or configuration of the gearmotor
Automatic lubrication system
Nickel plated chain
Stainless steel bearings
Belt scraper
Support / legs
Side guide (fixed or adjustable)
Electrical control options
You can contact us for more information or to discuss your requirements.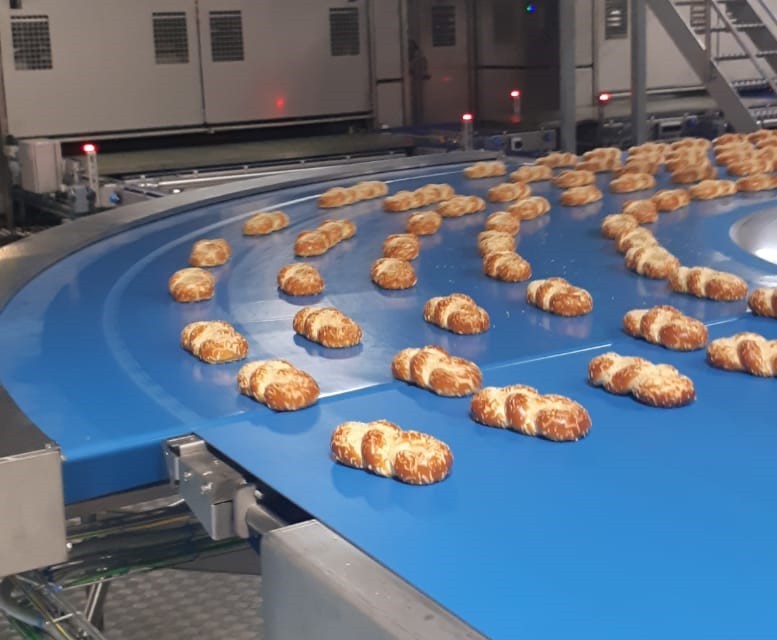 Online 3D configurator
The K&D Configurator 360 aims to quickly configure 3D models of curved conveyors and download them to use in your own 3D designs. The 3D models can be downloaded as a STEP, SAT or 3D DWG file.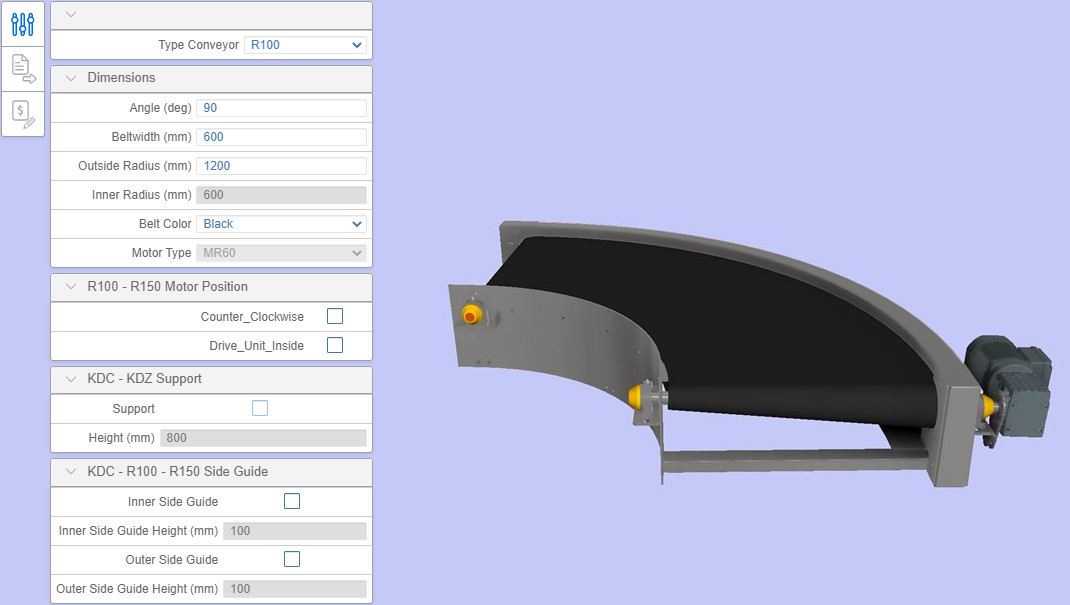 Example of the Type BMK in an industrial bakery: